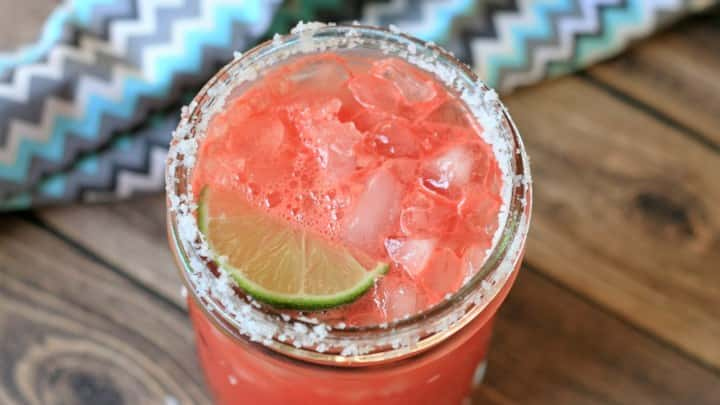 Photo credit: Fran C., AllRecipes.com
"Your margarita game will never be the same! Start by creating a simple syrup with sugar, water and orange zest. Pulse cubes of watermelon in your blender, then add simple syrup, tequila and lime juice. Moisten edges of margarita glasses with a lime wedge then rim with salt or sugar. Fill glasses with crushed ice and top off with your homemade watermelon margarita mix. Garnish with lime wedges and sigh into summer." -AllRecipes.com
Get the recipe for Jewel's Watermelon Margaritas from All Recipies, watch the video, or keep reading to see the recipe below!
"This is the non-frozen version of my watermelon margaritas. These are so amazing and refreshing on hot summer days. To make a virgin version, omit the tequila and use a lemon-lime soda."
Ingredients
1/2 cup white sugar
1/2 cup water
3 strips orange zest
2 cups cubed seeded watermelon
3/4 cup white tequila
1/4 cup lime juice
salt or sugar for rimming glasses (optional)
1 lime, cut into wedges
2 cups crushed ice, or as needed
Directions
Bring 1/2 cup sugar, water, and orange zest in a small saucepan to boil, stirring constantly. Simmer until sugar is dissolved, about 3 minutes. Remove simple syrup from heat and allow to cool completely.
Place watermelon in a blender or food processor. Pulse until pureed.
Stir watermelon puree into a large pitcher with simple syrup, tequila, and lime juice.
Place a small amount of salt or sugar into a saucer. Rub edge of margarita glasses with a lime wedge to moisten. Lightly dip the rim of the glass into the saucer to rim the glass; tap off excess salt or sugar.
Fill rimmed glasses with crushed ice; pour margarita mixture into glasses and garnish with lime wedges to serve.
ALL RIGHTS RESERVED © 2020 Allrecipes.com
From Allrecipes.com 5/3/2020