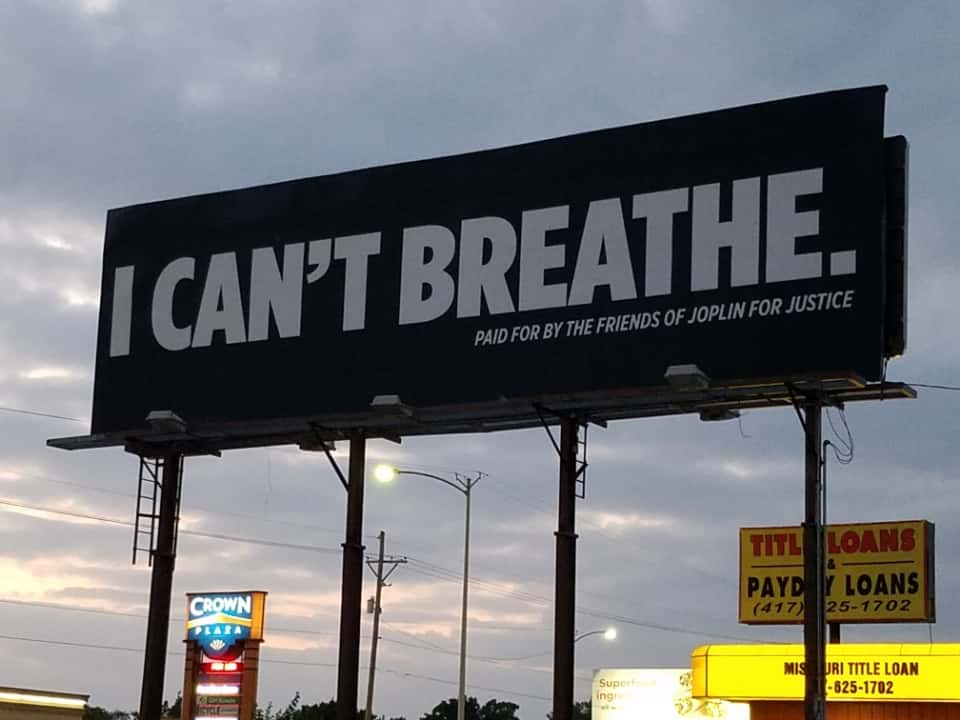 Photo of the "Joplin for Justice" billboard. Photo source: imgur
"Joplin for Justice" has been pushing for change at the local level. The Joplin movement started a Facebook group a little over two months ago, and the group already has over 3,500 members.
In June, the group raised funds to place a new billboard on the east-south-facing side of Range Line road between 11th and 13th streets. The sign displays the words "I Can't Breathe." Group members hope this statement reminds others of the haunting last words of George Floyd, whose death sparked protests across the nation. The sign is intended to stand in solidarity with victims of police brutality, specifically persons of color.
The group is also pushing for an audit of the local police department by asking community members to sign a petition. A portion of the group's petition follows:
"This petition is put forth by Joplin for Justice, a group of concerned citizens residing in the Joplin greater area. Joplin for Justice seeks increased transparency and accountability by the Joplin Police Department(JPD). We believe this will to promote diversity, inclusion, equity and improved relationships between JPD and the Joplin greater community.
We request an in-depth, transparent review of current policies and procedures; release of information related to police shootings; release of use of force data and reports that include demographics and identification codes for officers involved; release of community complaints and lawsuits over the past 5 years. We seek transparency and accountability to build trust between JPD and the Joplin greater community."
For more information on "Joplin for Justice," you can view the Facebook group here.