Enjoy a jump start to the holidays at the Pittsburg, KS Farmer's Market. Find those unique, thoughtful gifts for everyone on your Christmas gift list. We hope you find something great for yourself. See you on November 6th from 8 am-Noon at 119 E 11th Street, Pittsburg, Kansas.  If you'd like to be a vendor at the Holiday Craft Fair please call 620-231-8310 or email ashten.clark@pittks.org.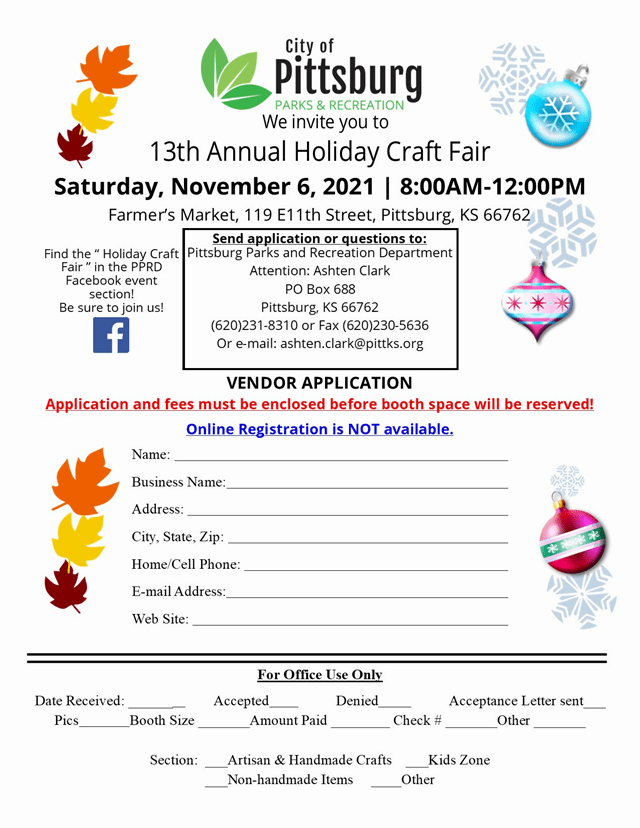 Pittsburg Farmer's Market
It's a holiday extravaganza! Celebrating our 13th year! This is the event to be at on November 6th! Don't miss out!
Where: Farmers Market | 119 E. 11th St.
When: November 6, 2021
Time: 8AM-12PM
Admission: 1 Non-Perishable & Unexpired Food Donation
Tons of vendors with handmade items that are a perfect gift for that special someone! To be a vendor at this event, please contact Pittsburg Parks and Recreation department for the vendor packet/registration information. For More Information, Contact Pittsburg Parks & Recreation at 620-231-8310.