Today we celebrate Chocolate Chip Cookies (we celebrate them every day)! We are divided on our favorite texture of these delicious culinary delights, cakey, crisp, or chewy. Did you know that if you adjust the butter, white sugar, and brown sugar measurements, you can make your favorite type of chocolate chip cookie? So let's take a deep dive into this ration and make the family some cookies.
We made it simple for you to create your favorite type of cookie. We have the ingredients listed for each type of cookie you like, join that with the main base ingredients and whip yourself up some joy!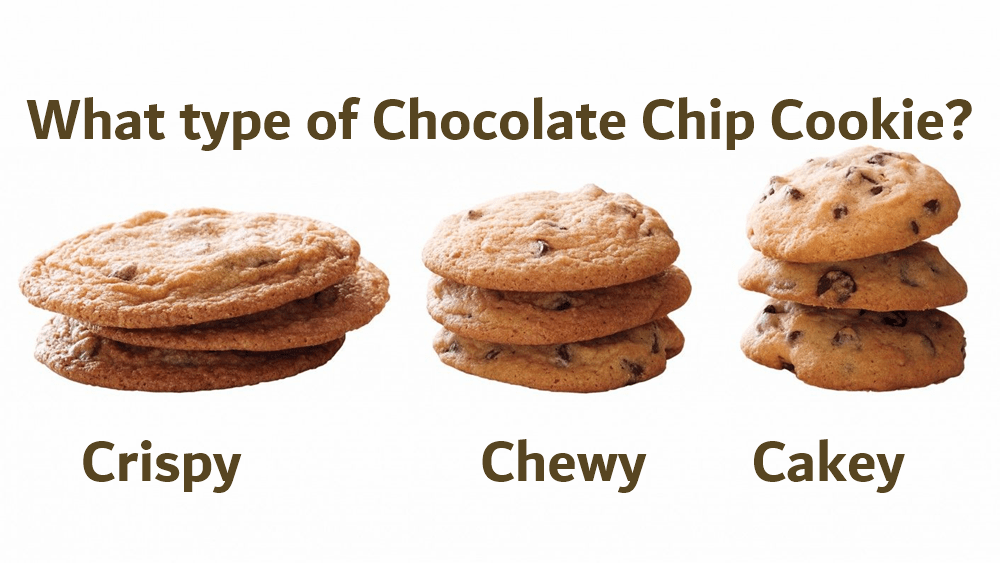 1- Pick which texture of cookie you enjoy
Crisp & Thin
2 1/2 sticks of softened butter
1 1/4 cups white sugar
3/4 cup brown sugar
Chewy & Soft
2 sticks of softened butter
1/2 cup white sugar
1 cup brown sugar
Cakey & Light
1 3/4 sticks softened butter
3/4 cup granulated sugar
1/4 cup brown sugar
2- Base Ingredients
2 1/4 cups all-purpose flour
1/2 teaspoon baking soda
1 teaspoon coarse salt
2 teaspoons pure vanilla extract
2 large eggs, room temperature
2 cups (about 12 ounces) of chocolate chips
Baking Instructions
Step 1
Preheat the oven to 350 degrees. 

Whisk together the flour and baking soda; set aside. 

In the bowl of an electric mixer fitted with the paddle attachment, combine the butter with both sugars; beat on medium speed until light and fluffy. 

Reduce speed to low; add the salt, 1/4 cup water, vanilla, and eggs. Beat until well mixed, about 1 minute. 

Slowly add in flour mixture; mix until just combined. 

Stir in the chocolate chips.
Step 2
Drop heaping tablespoon-size balls of dough about 2 inches apart on baking sheets lined with parchment paper.
Step 3
Bake until cookies are golden brown 12 to 15 minutes. 

Remove from the oven, and let cool on the baking sheet 1 to 2 minutes.