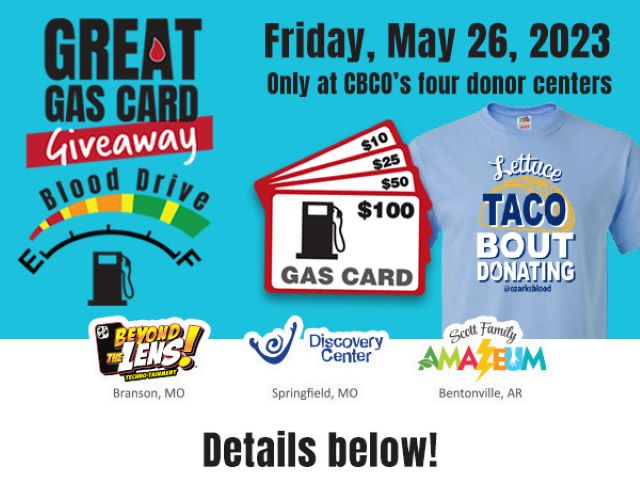 The event takes place on Friday, May 26, 2023, at CBCO Donor Centers in Joplin and Springfield, MO and Springdale and Bentonville, AR. Donors who give blood at one of the four donor centers will receive a fun
T-shirt and a mystery Casey's gift card valued at $10, $25, $50, or even $100, while supplies last! Donors will also receive a voucher for two tickets to Beyond the Lens! in Branson, Discovery Center in Springfield, or the Amazeum in Bentonville.
Donation hours for the Great Gas Card Giveaway Blood Drive are:
Springfield – Thomson Donor Center, 220 W. Plainview Rd. 8:00 AM to 6:00 PM
Joplin – Joplin Donor Center, 101 N. Rangeline Rd. 8:00 AM to 2:00 PM
All donor centers will be closed Monday, May 29, in observance of Memorial Day.
With the holiday weekend approaching, CBCO is asking community members to donate and help boost the blood supply. "This is an important blood drive as we head into the long holiday weekend and summer," CBCO Media Relations Representative Michelle Teter said. "Summer months can be a challenging time for the local blood supply, as donations tend to decrease due to the loss of high school and college blood drives. And while we want everyone to enjoy their holiday weekend, we also need the community's support to make sure the blood is readily available for local patients. So, stop by your local CBCO donor center before the holiday weekend, give blood to help fuel local patients and put some gas in your tank as a reward!"
To help avoid wait times, appointments are strongly encouraged. Donors can schedule an appointment at
https://www.cbco.org/donate-blood/
or by calling 417-227-5006. On behalf of local hospital patients, CBCO thanks blood donors from across the region for giving life to your community.
Contact:
Michelle Teter, Media Relations Representative
Community Blood Center of the Ozarks
417-224-4898
teterm@cbco.org