AT&T is the presenting sponsor for the 14th Annual Walk for Autism Awareness.  Autism awareness is extremely important to ensure we understand and celebrate differences, and become more inclusive of individuals with autism. 
Joplin, MO – AT&T is contributing $5,000 to the Bill & Virginia Leffen Center 14th Annual Walk for Autism Awareness. The contribution will benefit program development and scholarship assistance at Bill & Virginia Leffen Center for Autism. This year, the Freeman 5K is joining forces with Leffen Center for the annual Autism Awareness Walk.

"Autism spectrum disorders impact and affect families from all walks of life," said Paula Baker, President and CEO of Freeman Health System. "We're thankful that AT&T has partnered with us to ensure that financial need is not an obstacle to receiving diagnostic, treatment and therapeutic services."

Bill & Virginia Leffen Center offers gold-standard diagnostic, treatment and education services for individuals with autism spectrum disorders. Developed in consultation with the Cleveland Clinic Autism Consulting Group, Bill & Virginia Leffen Center for Autism is one of only a few treatment centers of its caliber. The center consistently demonstrates excellent outcomes regarding progress in communication, learning and social development and meaningful behavior. The highly trained staff uses Applied Behavior Analysis (ABA), an evidenced-based practice proven to be effective in the treatment of autism.

"AT&T is pleased for this opportunity to contribute to the good work done by the Leffen Center," said Craig Unruh, President of AT&T Missouri. "We're thankful for the continued care provided by the professionals who are devoted to making a difference in these families lives."

"There is a wealth of excellent research and work being done to improve the diagnosis and early treatment of the wide spectrum of autism disorders," said Sen. Bill White. "I'm grateful to the healthcare professionals devoted to this effort and companies like AT&T for recognizing the value this type of care brings to our community."

The Freeman 5K and Walk for Autism Awareness is Saturday, April 24 at Leffen Center (2808 S. Picher Ave). You can register online at freemanhealth.com/walkforautism or call 417.347.7850 for more information.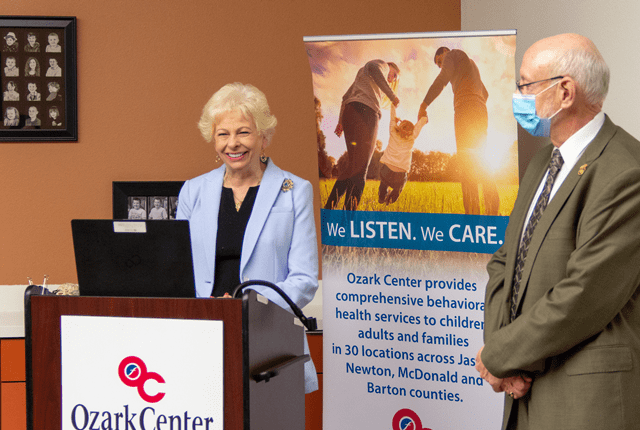 Tags: